2022 Q4 WEEE collection data released
The final quarter provided the annual result of 467,517 tonnes of WEEE collected in 2022, versus a target of 511,376 tonnes: a shortfall of 9%.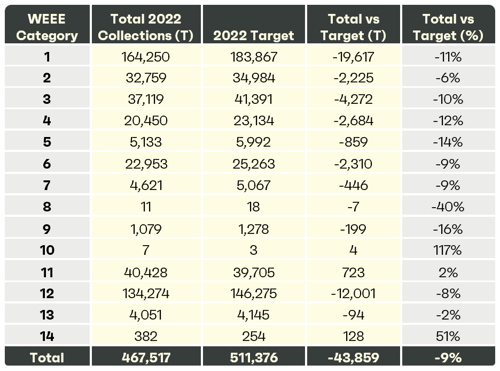 Table 1 2022 WEEE collection targets vs actual WEEE collected in 2022
Only three categories of WEEE met their targets for the year; automatic dispensers (captured within Small Mixed WEEE), display equipment and photovoltaic panels.
A long-awaited consultation of the UK WEEE regulations is anticipated this summer. The latest data release further illustrates the urgent need for revisions to the regulations that will promote the increased recycling of waste electricals, diverting them from indirect routes of collection and landfill, and into the recorded WEEE system. The consultation is expected to suggest increased kerbside WEEE collections for households to make it easier for people to ensure more waste electrical are collected, recycled or reused.
An ongoing concern for the sector is the 'recycling' of items, such as washing machines or ovens, outside of the recorded WEEE system. This is often referred to as 'leakage'. Many WEEE items, large domestic appliances in particular, are collected from households via indirect routes, such as kitchen fitters or sometimes unlicensed collectors, who collect for the scrap metal value. This is thought to have had a direct impact on the achievement of the 2022 large domestic appliances target, which ended with a shortfall of 11%.
The cost-of-living crisis is also thought to be impacting consumers buying habits, making the general public more reluctant to replace items, therefore reducing the volume of WEEE available for recycling via takeback. This could be another contributing factor to the low 2022 collection volumes, and one that could continue into 2023.
As a result of the failure to meet the 2022 recycling targets, DEFRA's secretary of state has approved the use of the "compliance fee" payable by schemes with a shortfall in their scheme obligation. The fee has to be set at a level above the cost of collecting WEEE from local authorities in order to incentivise schemes to achieve future collection targets.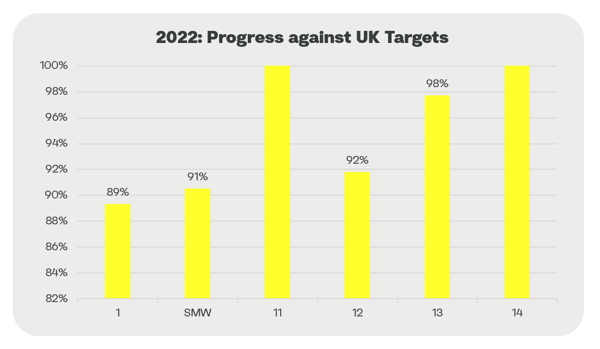 Table 1.2 2022: Progress against UK Targets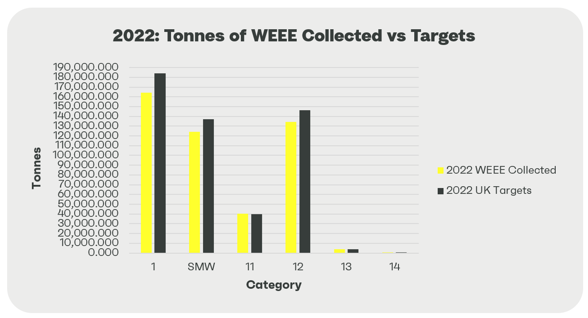 1.3 2022: Tonnes of WEEE Collected vs Targets
If you have any queries with regards to this data or how WEEE producers may be affected, please don't hesitate to contact us on weee@beyond.ly