Driving business performance with Zero Waste to Landfill!
Zero Waste to Landfill is becoming more and more of a buzz phrase but what does it mean? As it suggests, Zero Waste to Landfill involves diverting all generated waste from landfill, aiming to reduce waste and utilise the reuse and recycling of materials or opting for alternative end of life waste solutions such as composting or Energy from Waste (EfW).
Zero Waste to Landfill is a more intermediately achievable ambition for businesses, comparative to the philosophy of 'Zero Waste' (total waste elimination), which for businesses is extremely challenging to achieve. The scope of Zero Waste to Landfill certifications can vary depending on project aims, it can apply to full organisational level or just one manufacturing site.
Even with the most efficient of systems some material will inevitably end up in landfill. For instance, within the EfW processes there is always residual ash produced. Due to this, Zero Waste to Landfill is commonly interpreted as at least 99% of waste generated diverted from landfill, which is the standard Beyondly predominantly work to for our certification service. There are currently no internationally accepted standards for Zero Waste to Landfill, however many industry leaders have developed certification approaches and associated methodologies. Certification provides third party verification confirming diversion, supporting publication and application within sustainability plans. At Beyondly we focus on supporting our customers to achieve Zero Waste to Landfill certifications, prioritising waste optimisation with comparison against the waste hierarchy to set measured targets and goals. Our methodology follows existing best practice in global zero waste thinking, combining our circular economy expertise. We help businesses identify waste hotspots, solutions for problematic waste stream, connecting clients with waste providers and innovative technologies, providing recommendations and waste action plans.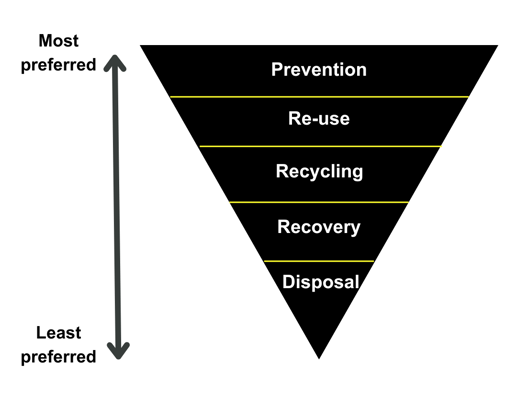 The waste hierarchy ranks waste management options according to what is best for the environment. With the most preferred option being to prevent waste, while least preferred is disposal through landfill.
Waste is a negatively derived term, and Beyondly help businesses to look for opportunities to turn waste into a financially viable resource – making money 'waste' rather than paying for removal. Achieving Zero Waste to Landfill can also align and contribute towards other sustainability goals such as carbon management and net zero commitments through scope 3 applications of waste management. However, there are many other benefits of Zero Waste to Landfill:
Demonstrable commitment to the environment – this can contribute to corporate targeting, tender agreements or for ESG policies. It will also help to develop your public relations increasing the opportunity for marketability of products or services.
Reducing emissions from landfill – contributing to business carbon management schemes and reduce organisational carbon footprint. For instance, 3% of UK's GHG emissions from methane produced by decomposing food waste in landfill.
Reduced landfill costs – the landfill tax was introduced in the UK back in 1996, but it continues to increase year on year and is now over £100 per tonne. Eliminating landfill will result in immediate cost savings.
Increase resource efficiency – reducing material waste and usage can reduce amount of products/raw materials purchased leading to cost savings. For example, reuse of packaging reduces the cost of packaging purchased.
Increased recycling rate and value of materials – recycling materials helps to limit end of life environmental impact and in pre-consumer or closed loop scenarios reduce requirement for raw materials, helping to reduce water, land, or energy consumption.
Full audit trail to satisfy yourself that waste isn't ending up in landfill – Beyondly work with waste suppliers in depth to confirm status of waste and end of life processing, building a waste dashboard to support future tracking and management.
Beyondly have supported many customers to optimise their waste and certify Zero Waste to Landfill of different scales. See one of customer focus stories here.