Environmental Improvement Plan 2023 - What it means for the waste and resources sector?
The 25 year environmental plan was published back in 2018 with targets focused on nature, water and air quality and waste, to mitigate the UK's environmental impact and tackle the climate crisis. As part of the 5 yearly updates, DEFRA published the Environment Improvement Plan 2023 on 31 January 2023.
The report highlighted how the pandemic had inhibited progress in meeting the Resource and Waste Strategy's long-term ambition to eliminate avoidable waste by 2050. The surge in single use products like face masks and testing kits led to residual waste significantly increasing between 2019 and 2020, while household recycling rates fell 1.5%. To rectify this backward step, the report outlined the actions taken but also the future strategy.
So, what have we seen since 2018:
Introduction of the UK Plastic Packaging Tax.
Single use carrier bag charge raised to 10p in 2021.
Restrictions on plastic straws, cotton buds and bans for drinks stirrers.
Launched a chewing gum task force with Keep Britain Tidy.
Provided new powers for councils to tackle waste crime and anti-social behaviour.
Behind the scenes:
The Government have also supported the Waste and Resource Action Programme (WRAP) with funding to target resource efficiency and minimisation of waste through projects focusing on food waste prevention, recycling, plastic packaging and textiles.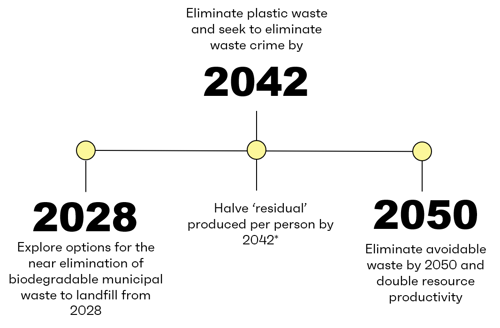 *DEFRA have defined residual waste, as waste that is sent to landfill, incineration or used in energy recovery in the UK or sent overseas to be used in energy recovery.
What is to come…
The next few years represent a turbulent time for the waste and resources industry as DEFRA work towards achieving their long-term ambition to eliminate avoidable waste by 2050, these initiatives include;
The phased implementation of Extended Producer Responsibility (EPR) from 2024,

 

2023 transition year currently already underway.
Boost recycling rates through consistent household and businesses collections, supporting local authorities to collect: paper and card, glass, metal, plastic, food waste and garden waste from households with the exemption of plastic films for the first 2 years.
Mandate recycling labelling for packaged products by 31 March 2026 (except plastic films which will mandate by 31 March 2027), to further support the consumer to take the right action. 

 

Ban specific single use plastic items (plates, cutlery, balloon sticks and extruded polystyrene food and drinks containers) from October 2023 to help eliminate avoidable waste. With awareness and calls for research for other problematic items such as cigarette filters, plastic sachets, and wet wipes (something to be mindful of as a producer).
The government will take action on fibre-based cups with progress towards a mandatory take-back scheme under EPR. Electrical waste also featured within the plan, with DEFRA aiming to increase recycling accessibility and reform the current WEEE System.
Eliminate biodegradable waste to landfill, drawing on heightened emissions from the anaerobic process. They are calling for evidence on biodegradable waste to support an elimination plan from 2028, but there is hope improvements in food wastage and food waste collections will help to reduce this. Additionally, to support halving residual waste produced per person by 2042, DEFRA have set some challenging interim reduction targets for 2028, which will need to be considered more broadly in relation to the previously discussed packaging and collection reforms:
| | |
| --- | --- |
| Waste Stream | Reduction by |
| Residual | 29% |
| Food | 50% |
| Plastic | 45% |
| Paper and Card | 25% |
| Metal | 42% |
| Glass | 48% |
Introduce a Deposit Return Scheme (DRS) for drinks containers like cans and plastic bottles from October 2025 (England to exclude glass), to help increase recycling rates of these streams to around 90% and reduce material usage.
DEFRA plan to continue redesigning policy to favour circularity and will publish a new maximising resource and minimising waste programme in England setting out priorities for 7 key sectors (construction, textiles, furniture, electronics, vehicle, food, plastics, packaging, and single use items to manage waste and resources.
Businesses working proactively to minimise waste and maximise resources will be prepared and rewarded as DEFRA continue to develop legislation towards circularity. Want to take your first steps?…
Whether it starts with Zero Waste to Landfill, Packaging Optimisation or just a goal of mitigating EPR costs, Beyondly can support your businesses along your bespoke waste and resources journey. For more information, please contact solutions@beyond.ly 
Source: https://www.gov.uk/government/publications/environmental-improvement-plan