Q2 2023 Unverified Packaging Data Release
The release of the second set of unverified quarterly packaging recycling data has now been published by the Environment Agency (22nd July), which details total volumes of packaging recycling for Q2 2023. This information is still unverified with a number of reprocessors/exporters to report their figures, so these volumes will have chance to evolve before release of the verified version later this month (25th August). 
The quarterly data releases are key drivers to PRN prices in the UK, and as they are mandatory reporting for all accredited PRN sellers, it provides a more reliable data set than available monthly data. As usual, this data set has been keenly anticipated with PRN prices generally remaining at high levels across most materials in the first half of the year.

Table 1 - 2023 packaging recycling levels alongside confirmed carry in and current UK obligation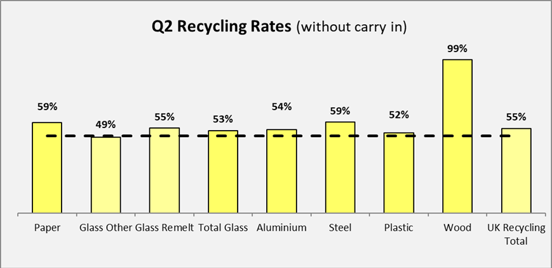 Figure 1.1 – Q2 2023 unverified packaging recycling levels against current obligation, without carry over PRNs from December 2022 included.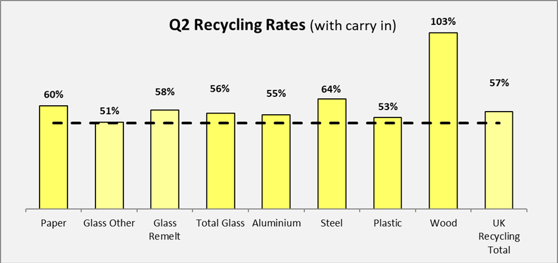 Figure 1.2 – Q2 2023 unverified packaging recycling levels against current obligation, with carry over PRNs from December 2022 included
In general, the initial Q2 volumes across most materials remain similar to Q1, and when tracked against the current UK obligation, the position looks strong with all materials above the required volume at the halfway stage, without carry in included.
This is a positive stride from where the UK began the year, as with a much-reduced carry in available due to the poor end to 2022, and with an unknown task ahead, many stakeholders were questioning the possibility of reaching all the targets at all, let alone by how much.
It's important to consider that there are still a number of producers to complete their submissions for 2023, so the UK obligation and therefore demand is likely to grow from where things stand currently, in terms of required PRN's. This was the case last year, and delays in uploading submissions and the significant size of many producers submitting late, caused a sustained layer of pressure over PRN markets, right up towards Q4. This year will likely be different with there seemingly being less significantly sized producers still to register, but also due to the fact many producers that have already submitted in 2023 appear to have handled less packaging, due to factors such as tough economic conditions last year, for example cost-of-living factors and energy prices.
Regardless, the potential growth in obligation, alongside recycling rates over the second part of 2023, will determine the scale of the true task ahead to reach all material targets this year.

Table 2 – Remaining recycling required versus current obligation and final 2022 obligation.
Paper, Wood & General Recycling
In Q2, paper almost reached 1 million tonnes for the second quarter in a row and as a result, currently sits around 10% above its required progress versus today's targets. Wood has performed even better, registering almost 165,000 tonnes for Q2 and reaching 99% of its own current target, despite only being at the halfway point.
Surplus will be required in order for the UK to fulfil its extra 'general recycling' obligation, and if strong recycling rates can continue for both materials, it should afford improved supply for this target relative to 2022.
Glass
As suggested through recent monthly data releases, it appears as though glass other or glass aggregate recycling rates, are currently falling just short of current targets. The Q2 data however confirms that glass remelt rates remain in surplus and is currently covering any deficit caused by glass other recycling rates, as glass remelt PRNs are permitted to be purchased in lieu of glass other if required.
Overall, in Q2 glass reached approximately 455,000 tonnes and in total stands around 56% of the current target. As with other materials, it represents a positive step forward, but as highlighted in table 2, two more strong quarters of recycling will remain, especially if the UK obligation was to grow significantly.
Aluminium
Q2 shows 38,000 tonnes recycled, slightly down on Q1 and within a material which has little to no significant carry in volume available for 2023. This has put more pressure on this years recycling rates compared to others, and has so far kept PRN prices at high levels.
Table 2 shows how even if obligation levels reach that of last year, the task ahead remains achievable but with no safety net and two similar quarters required in the final half of the year, PRN market pressure may take longer to dissipate than other materials, if current recycling rates were sustained.
Steel
Steel appears to have performed well in Q2, improving on Q1 levels to over 107,000 tonnes. When viewed in context of both current and potential requirements as well, both scenarios present an achievable task, and could result in a release of PRN market pressure.
Plastic
A level of 295,000 tonnes achieved in Q2 represents an increase of over 10,000t versus Q1, which may well be a result of sustained high PRN values. Overall, versus current obligation, it would mean that plastic is on track, even without any carry in available from last year considered. This represents a positive step forward from the start of the year, and in the short term may represent a release in market pressure.
Table 2 highlights how if current recycling progress was measured up against the final obligation 2022, the scenario would be different, and while it's agreed by many stakeholders that the final obligation for this year is likely to fall short of this figure, it highlights how current recycling rates will be required to be preserved over Q3 and Q4, if the UK is to reach target in 2023.
Summary
The data represents positive progress towards whatever the recycling targets may finish as in 2023, and also shows how the sustained high PRN prices experienced so far, have likely helped in terms of recycling rates and generation of PRN supply.
While the present scenario is positive, it's important all stakeholders remain measured, as there is still half a year remaining and also with some growth to be expected in terms of demand, all be it likely to end up reduced versus 2022.
We will continue to extract the maximum value out of the market, no matter the conditions, but are hopeful that pressure on PRN prices and producers can ease with each step closer towards compliance.
As usual, we are running a PRN market update webinar to discuss all the most recent available data, potential impacts on the market and to review Q4 PRN pricing estimates as well. It will be presented on 24th August at 10:00, and you can register for your free place here!
If you have any questions at all, please don't hesitate to get in touch with your account manager or the packaging team and we'll be happy to help.